---
HOW TO BUY YOUR FIRST HOME: A STEP BY STEP GUIDE
Learn the step by step process on how you can buy your
first home easily & hassle free
---
---
Published by the Housebuyers4u team, 2019
---
I N T R O D U C T I O N
---
Getting on the Property Ladder
---
For many people buying their first home and getting onto that all elusive housing ladder is the ultimate financial achievement. All them years of hard work have finally paid off and now you're able to have a place of your own you can call home.
---
That said, getting there is no easy task. The complexities of buying a home coupled with the lack of experience of a first time buyer can make the whole
house buying process
very daunting, and without proper guidance one could find themselves in more trouble and stress than they can handle.
---
This is where our guide can be of help.
---
Our first time home buyers guide will cover everything you need to know about buying a house for the first time. This includes things like, how you can start saving up for a deposit, how to go about finding the right property, what to look for when viewing a home, what type of mortgage you should choose, negotiating tips and so much more!
---
To make life a little easier for those who don't have the time to read a full guide, below we've put together a full list of every chapter our guide offers. Simply click on the chapter of interest and it'll take you straight there.
---
What can you Afford?
Buffing up that Deposit
Finding your Ideal Home & Location
What Type of Mortgage Should I Choose?
What you Should do When Viewing a Property
Negotiating & Making an Offer
Don't Skip the Survey
Exchanging of Contracts
Moving in Smartly & Stress Free
C H A P T E R  1
What can you Afford?
---
If you've decided that you definitely want to purchase a new house, firstly you need to figure out how much you want to pay for it which will then give you an idea how much you will need to borrow.
---
Although this goes without saying, houses are expensive and it's important that you are able to work out how much you can spend on a new house without it impacting too much on other areas of your life.
---
In general people want to buy as much home as they can and often pay out all of their budgets for just the home. If you are one of these people, stop and think for a moment. In many cases first time buyers pay out their full budgets for a home but do not leave any money spare for things like monthly bills, house work or the unexpected. This can backfire severely and could lead you into falling behind in mortgage payments, having to sell your home on estate agents/
national home buyers
or worse, risk your home getting
repossessed.
---
To combat this, you should begin by adding up your savings so you can roughly work out how much money you have going out each month. This will give you a good idea on the price range for a home that will be suitable for you. In general you can expect to borrow around four times as much as your gross income for a mortgage.
---
The Money Advice Service
has a great tool that will help you calculate savings with ease.
---
---
It may be that your property is unique in some way which makes it difficult for estate agents to value correctly. In these circumstances an auction will help determine the market price for you as bidders will pay the price they feel it is worth.
---
While budgeting you want to take into account the following costs as well:
---
Mortgage arrangement and valuation fees
Stamp Duty (or Land and Buildings Transaction Tax in Scotland)
Survey cost
Removal costs
Solicitor's fee's
Initial furnishing and decorating costs
Buildings insurance
---
Once you've worked this out it's time to start saving for that deposit!
C H A P T E R  2
Buffing up that Deposit
---
It's common knowledge that there are huge benefits to be had if you can save up a large deposit for a mortgage - the main one being lenders will offer you more favourable mortgage packages with better rates saving you a fair amount of money throughout the duration of your mortgage.
---
We decided to add in a few quotes from a mortgage comparison website
Compare the Market
so you can get an idea of the difference in rates offered when you increase your initial deposit. We recommend that you do the same and get quotes from a number of different mortgage lenders as this will give you a good indication of where you stand, what types of rates you should be looking at and ultimately what you can actually afford.
---
* Please note: Rates were found in July 2018 and are subject to change due to fluctuating interest rates.
---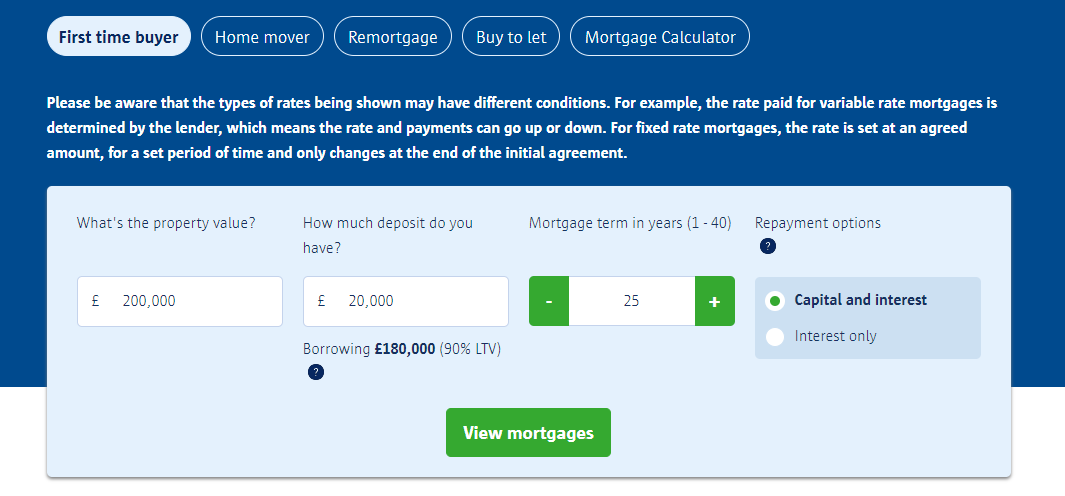 ---
The image above shows the basic requirements that we had to fill out to get a mortgage quote. We went for a first time house buyer mortgage that
spans over 25 years with an initial deposit of 10%.
In addition for this example, we selected a capital and interest repayment mortgage as this is the most common. Interest only mortgages are only used in specific circumstances.
---
Below are the top 3 rates we received.
---
---
Now we will increase the initial deposit to £80,000 (40%).
Lets take a look at the difference in rates.
---
---
A minimum deposit of 5% is required for a mortgage. On an average home worth
£200,000
that would mean you would need to save at least
£10,000.
---
Remember though, if you want a better rate you would want to push your deposit up as high as you can.
---
The first step to start saving a deposit is to set yourself a weekly/monthly budget. take some time out of your day to evaluate all of your expenditure thoroughly and then highlight things you could give up in attempts to save some extra cash. If it means not buying that morning cup of coffee and donut for £3 every morning – over the course of a year that would add up to over £700 in savings! Other ways you can save a deposit include:
---
Make Sure you have the Best Savings Account Available
---
There are many different types of saving accounts but picking one that offers you the best rates will go a long way in helping you complete your goal.
---
Picking the best account will depend on how you plan to save. If you want to put in the same amount each month, a regular savings account could be the best option, however, if you feel you need a bit for flexibility with your account, you might need to go for an instant access savings account.
---
You can also benefit from paying less tax on your savings by maximizing your full ISA allowance each year. Each year you have allowance of how much you can invest into an ISA. All interest you earn is tax-free, which means your savings are going to be working harder for you which will in turn lead to you reaching your goal faster.
---
Stop Renting
---
If you rent a home you probably feel like it will be impossible for you to raise a significant deposit because you are paying out so much of your income as rent. Sit down with your family or friends and consider whether you could survive without your own place for a period (typically about a year). If you decide you can, we have listed a few things you can do until you have raised enough of a deposit to put down on your own place.
---
Home Sweet Home
- Sit down and talk with your parents. If you can move back in with them for a little while you could save a lot of money. Discuss how long you will stay, how much rent you will pay in, what you will do to help with house chores and how you will divide household bills up front so everyone is happy from the word go.
---
Find a Cheaper Place
- If moving back in with your parents is not an option, look for a place to live where the rent is cheaper. Speak with your friends – if they know of a cheaper place or room you could rent out, take it.
---
Look for a Room Mate
- If you cannot move homes for whatever but have extra space in the home you live in, sub let it and get yourself a room mate who can cover some of the rent costs.
---
You should also try to avoid any big investments while saving for a deposit. Every penny matters, so you do not want to risk your deposit savings as you may lose out and end up with less or worse, no savings at all.
C H A P T E R  3
Finding Your Ideal Home & Location
---
Once upon a time looking for a new house would mean peering through an estate agents window or reading through the local newspaper however, the internet being what it is has made the process much easier. Now you're able to go online and make a short list of your favorite properties simply by visiting a few different websites.
---
The first thing you should do before is to sit down and put together a list of things you want in a property. A few examples of questions you can ask yourself include:
---
Do I need off street parking?
How many bedrooms do I need?
Is one bathroom enough or do would we need two?
Are the windows double glazed?
Terraced, detached or semi-detached?
---
Another point to consider is what kind of energy efficiency rating the house has. It may look nice but if it has a poor energy rating you could lose out.
---
Also be sure to check out which council tax band the house fits into so you can get a rough idea of how much you will need to pay.
✕
---
Once you have decided on your property specifications you can now start searching for potential winners. Two of the more popular online websites first time home buyers like to use are
Rightmove
and
Zoopla
.
---
Searching for a house at Rightmove is easy - simply fill in the online form stating what you want in your property and hit the search button!
---
---
While searching do remember that your first home does not have to be your dream home. Be open minded and flexible as you may not get everything you want.
---
As well as your property specification you should also think carefully about it's location and neighborhood.
---
You should base the location off your needs, for example if you're a new parent or have a few children then you may want to find a home with a school nearby which will make dropping off and picking up your kids easier.
---
If you commute to work on a daily basis then you may want to make sure there is a train station or bus routes close by making transport a none issue for you.
---
Additionally, you want to pay attention to the local crime rate of the streets/area you will be moving into. If you have some extra time, take a little day time trip to the street so you can get a feel for what it's like and the kinds of people that live around the area. The added benefit of doing this is it allows you to see what kinds of shops are around the area so you know where everything is if you decide to move.
C H A P T E R  4
Which Type of Mortgage Should I Choose?
---
A common mistake made by first time home buyers is that they prioritise finding the right home over getting the right mortgage. These are equally important - firstly because that big deposit you have been saving will be used here and secondly, just like your house you will living your mortgage for many years to come.
---
Mortgage Types
---
Mortgage lenders tend to use fancy names when it comes to naming their products but in essence there are only 2 you need to know about. Repayment mortgages and interest only mortgages.
---
Repayment Mortgage
---
A repayment mortgage as the name suggests is when you repay the amount you have borrowed over the term of the loan (the 'capital'), together with interest. You make one payment each month to your lender.
---
Interest Only Mortgage
---
An interest only mortgage gives you cheaper monthly payments on your home loan but you are not actually paying back any debt – your monthly payments only cover the interest. At the end of the mortgage term you will still owe your lender the amount that you borrowed, and now you need to have plans to repay this at the start of the loan.
---
The main reason someone my want to opt for an interest-only mortgage is because it is cheaper and there is less of a chance of falling into arrears.
---
Mortgage Rates
---
After you've decided on which type of mortgage you want you will now have to think about what kind of mortgage rate you will opt for. As with mortgage types there are a few different types of rates but the 2 main ones are fixed rate and variable rate.
---
Fixed Rate Mortgage
---
A fixed rate mortgage is is a fully amortizing mortgage loan where the interest rate on the note remains the same through the term of the loan, as opposed to loans where the interest rate may adjust or "float"
---
Variable Rate Mortgage
---
A variable rate mortgage is as the name sounds a type of variable rate – this means your payments can go up or down according to movements in interest rates.
---
Tips on Getting a Mortgage
---
1) Meet with a Professional Mortgage Advisor
---
---
These people are professionals and know the mortgage sector so they can provide you with invaluable advice on how much you can borrow and the type of mortgage that would suit you best.
---
2) Get your Credit Rating in Check
---
---
A credit score is a tool used by lenders to help determine whether you qualify for a particular credit card, loan, mortgage or service and it matters.
---
People with high scores are usually seen as lower risk, and are therefore more likely to be granted credit with better rates. People with lower scores are seen as high risk and are less likely to be granted credit.
---
3) Help to Buy Government Scheme
---
---
The government always have different schemes or programs running which encourage and help people buy a home.
---
One current scheme is their Help to Buy scheme. This can be split into 2 main options. The first option is this scheme only requires you to have a deposit of 5% and the government will stump up a further 20%, giving you access to more attractive mortgage rates. You will not pay any interest on the government's 20% of the loan for the first five years. It must be noted that this is only available for new build homes.
---
The second option of the scheme again only requires you to have a 5% deposit, but the government will provide a guarantee that covers up to 15% of the mortgage.
---
The Legal fee's that Come with Taking out a Mortgage
---
Purchasing any kind of home comes with a host of legal and extra fee's many first time home buyers don't even know about. These fee's can run into the thousands so it is important that know what these costs are and that you factor them into your initial deposit. We briefly mentioned some of these in a previous chapter but now we will go into a little more detail on each on.
---
The checklist below highlights the majority of fee's and gives an estimate of how much each one may cost. Click the different headings for more information.
---
Mortgage Deposit
This is the amount you will be putting down towards the property. It varies but you will be looking to put down between 5%-20% of the total property price.
Valuation & Survey Fee's
The lender will charge between £150 - £1500 to value the property you will be purchasing.
---
See chapter 7 for more information on survey fee's
Stamp Duty
Stamp duty is a government paid tax which is due on homes valued at £125,001 or more. As of April 2016, the fee has been changed so there is an increase of 3% when one purchases additional homes.
---
See stamp duty 2016 explained for more information
Legal Fee's
A solicitor will need to be brought in to carry out all the necessary legal work. This will cost you between £500 - £750 plus VAT
---
The solicitor will also need to be payed for searches. This is when the solicitor checks if there are any issues that may effect the value of the property you want to purchase.
---
This can cost around £250 - £300.
Electronic Transfer Fee
This fee is paid by the lender and it covers the cost of transferring money to the sellers solicitor account.
Estate Agent Fee
Typically between 1% - 3% of the property sale price plus 20% VAT. This is only paid by the seller and the the fee is normally negotiated when the estate agent puts the property on the market.
Moving Costs
This can be done yourself but if you choose to hire a removal firm it will set you back between £300 - £600.
Other Mortgage Related Fee's
These are extra fee's associated with taking out a mortgage and they include, an arrangement fee and a booking fee.
---
You may incur an arrangement fee depending on the type of mortgage product you take out so be sure to do your research beforehand. This fee can be up £2000.
---
Booking fee's can cost anywhere between £99 - £250.
Buildings Insurance fee
If you change your buildings insurance provider the previous company responsible may sneakily charge you £25 for changing.
---
C H A P T E R 5
What you Should do When Viewing a Property
---
Viewing a property is harder than it looks as one can easily get lost in thought about how their perfect home could look and forget to ask key questions regarding the property.
---
It can be tough but we have put together a few suggestions for you to make it a little easier!
---
1) Turn up Early
---
Arriving early gives you a bit of time to check out the front and back of the house as well as giving you some time to see what the street folk are like.
---
2) Bring an Extra Person
---
Two eyes are always better than one, while the estate agent is talking to one of you the other is a bit more free to look around the house as they please.
---
3) Use your Eyes, Hands & Nose!
---
Don't rely on just your eyes - your nose could lead you to potential damp problems, mould or even infestations. Use your hands to feel across walls in case cracks have been painted over. You are bound to see or feel hairline cracks but if there are larger ones then you should get clarification.
---
4) Take your Time
---
You want to spend at least 20-30 minutes checking around the house thoroughly so you can get a good feel for it. This will also give you a better chance to spot any problems if there are any.
---
Be sure to ask the seller any questions you may have as well. We have listed a few must ask questions below to help get you started.
✕
---
How long has the property been on the market?
Are the sellers in a chain or is it broken?
Whats the area like?
Why is the owner selling?
Exactly what is included in the sale?
What offers have you had so far?
How long have the current owners lived here?
---
Getting the answers to these questions could give you some leverage when it comes to making your offer which we're going to go over now!
C H A P T E R  6
Negotiating & Making an Offer
---
Before making an offer you can treat the asking price as a guide price for you to make your offer but be prepared for a counter offer.
---
Think carefully before you make your first offer because if you go too low you risk not being seen as a serious buyer or being outbid by someone else. If you bid too high then you could end up paying too much for the property losing and losing out.
---
First decide the maximum you are willing to pay for the property. Doing this will give you an idea on how much you can start bidding at. If you are still unsure on how much to offer, do some research on websites like Rightmove and find out how much similar properties in the area were sold for and make a bid using that information.
---
The general process would go something like this.
---
You call up the estate agent and tell them you're interested in the property
You give them your bid
If they accept then all is well
If they decline, re-think your offer and call them back
---
Be sure to do some haggling yourself. As stated earlier in chapter 5 use the answers to some of the questions asked earlier as leverage to reduce their asking price. Also, be sure to point any flaws you may have spotted while viewing the house to reduce the price further.
---
Below are some great negotiating tips you should try to implement while haggling.
---
---
If all goes well and you meet their asking price be sure to confirm that the house will be yours and ask the estate agent to remove the house from the market to avoid getting out bid.
C H A P T E R  7
Don't Skip the Survey
---
After you've done your part and sent off the mortgage application there is usually a short waiting period. During this time all the other parties involved are in the process of getting all their necessary paper work filled out and signed.
---
All conveyancing is also taken care of during this period. Conveyancing is the process by which ownership of land is transferred between a seller and a buyer. Conveyancing also involves, dealing with the land registry, sorting out the stamp duty fee, looking over contracts and transferring any money involved during the sale.
---
At this point you want to ahead and hire a chartered surveyor to examine the building you are investing in. The surveyor will basically check that the building is structurally sound and does not have any major issues that may cause other problems later down the line in the future.
---
It's worth mentioning here that your mortgage provider will do their own valuation of the property to check for any major problems and although it is tempting to go by their survey, for peace of mind it is still highly recommended that you get your own survey done just to be sure.
---
Aside from the valuation, there are two types of surveys you can choose from:
---
Homebuyers Report
---
A homebuyers report is the most popular report that the majority of homebuyers and people looking into renovation projects opt for when getting a survey done for a property. This can be arranged easily through your mortgage lender or with an independent surveyor.
---
According to the
Royal Institute of Chartered Surveyors
a homebuyers report will cover, a market valuation and insurance rebuild costs. It includes advice on defects that may affect the value of the property with repairs, and ongoing maintenance advice. It will also provide:
---
An in-depth review of the underground drainage and roof area.
Advice on any faults that could impact the value of your property negatively.
Recommendations for repairs and ongoing maintenance.
It will help you in deciding on whether you need extra advice before putting pen to paper.
---
A homebuyers report can cost anywhere between £250 – £400.
---
---
Building Survey
---
This kind of report is the most premium service and provides a very thorough & detailed assessment of your property. This type of survey can be extremely useful for older more traditional properties, properties that have been altered, buildings constructed in a peculiar way or properties you plan to renovate or change in any way.
---
A building survey provides a comprehensive report covering things such as:
---
Identification of major and minor defects.
Advice on repairs and other possible areas that require maintenance.
Damp test results taken from the walls.
---
The survey will also feature an assessment of any damp-proofing, drainage or insulation however, the drains are not usually tested. It will give you information on the types of materials used in the property and recommendations for further specialist inspection if needed.
---
As a building survey provides the most in depth service and can cost you anywhere between £600 – £1000 again depending on the size and location of the property. Something important to note is that unlike a a homebuyers report, a building survey does not provide you with a property valuation.
---
Once all the surveys are complete and everyone is happy, the last steps are to exchange contracts and then finally move in.
C H A P T E R  8
Exchanging of Contracts
---
The hard part is over and you're all but ready to move into your new home. However, before you can officially
buy your house
, you will have to go through completion day. Luckily, the process on completion day is very simple. It involves the signing of contracts between yourself and the seller and then the solicitor's swapping contracts and completing the process. After this is done, you can pick up the keys to your new home and begin moving in!
---
---
Note that once the contracts have been swapped you will have entered into a legally binding agreement and if you were to back out you would have to forfeit your deposit.
---
Although it is not mandatory it is recommended to take out buildings insurance once the house is officially yours.
---
C H A P T E R  9
Moving in Smartly & Stress Free
---
Moving day itself can be very stressful so in order to make things easier for yourself try to prepare a little advance. We have put together a list of 9 tips below that will help you! It recommended that you book off extra days from work so you can get everything ready.
---
---
Let's take a look at these 9 steps in a little more detail.
---
1) Pick a Moving Date:
When deciding on a moving date try to pick one as early as possible otherwise you may end up having to take on the task on a busy day which could result in things not getting done properly.
---
2) Change your Address:
Be sure to change your address at least 2 weeks before you actually move out. Don't forget to include your change of address on things like utility bills, credit cards, bank statements and anything else you may have an active subscription for.
---
3) Pick an Off Peak Day:
The day you choose is also important. Try to avoid fridays and bank holidays as fridays are usually busy days and the majority of moving firms are closed on bank holidays. Ideally you want to pick an off peak day during the day so you can avoid getting stuck in traffic and the like.
---
4) Find a Reliable Moving Firm:
If you've got any family or friends who have recently moved home, ask them for recommendation. If not, go online or ring around getting quotes for as many firms as you can. Then pick the best one that caters for your needs.
---
5) Label Boxes Properly:
Correct labeling will save you a heck of a lot of time not only when packing things initially but also when opening them at your new place.
---
6) Insure your Possessions for Transit:
Make sure that all your possessions are insured for transit. Although most removal companies provide this service it may be that there are some exclusions when it comes to some of your personal items. For example you may pack luxury or prestigious items that do not come under the removal companies policy, check that these are covered when in transit by YOUR contents insurance.
---
7) Double Check Everything is Packed:
The last thing you want to happen is to find out you've left your partners favorite tea set back at your old place so before the removal company arrives be sure to check everything that's going is packed and ready to be loaded.
---
8) Get Together all the House Keys:
Collect all the keys to your property and give them to your solicitor or estate agent. This includes any extra keys you may have given to friends or family!
---
9) Get any Last Ditch Preparations Done:
Last ditch preparations include making a checklist of everything you are having moved, letting the post office know to redirect your post and cancelling any weekly deliveries you may have. If you are moving to a totally new area, register with a new GP and dentist!
---
Once everything is moved you're done! You can now begin getting your new home ready or even introduce yourself to your new neighbors.
A Final Word
---
As we come to the end of our guide, let's refresh our memories on what we've covered. Starting from chapter 1 we have learnt the following:
---
1) What can you can afford to pay for a property & how you can work out that figure
2) How to save for a house deposit
3) Finding your ideal home and it's location
4) What type of mortgages are available to you and which one would suit you best
5) What to do when viewing a property for the first time
6) How to negotiate & make an offer
7) House surveys you should get done before buying a property
8) The exchanging of contracts
9) Moving in smartly & stress free
---
We're confident that if you've managed to read through our guide & absorb the information we've provided, you're much more likely to have a smoother, less stressful first time house purchase!